Win our 'Top Dog' Site award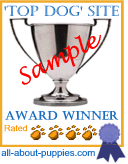 If your have a pet related web site or supply products for people with pets then you are eligible to apply for our 'Top Dog' Site award.
If you you want the recognition of winning this prestigious award and the free exposure it will get your web site, please complete the simple form below.
Good Luck!

We will review your web site and, if you are successful, email you with details of how to claim your award and place on your web site.
See also: [Link To Us] [Submit An Article]