All about Beagles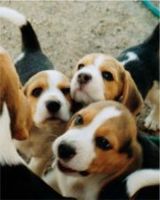 These dogs love to explore the outdoors and is an enthusiastic trailer.
Given sufficient exercise, it is a a calm house dog and makes an excellent children's dog – gentle, incredibly tolerant and always ready to join in a game. It is an independent breed and may run off if a trail beckons, it also barks and howls!!
The Beagle is the smallest of the British scent hounds, whose ancestors may be traced to William the Conqueror's arrival in Britain. It was originally smaller and was carried around by hunters in their saddle bags. It was kept almost entirely as a working dog until the 1940's, but is now equally popular as a pet.
The Beagle has soft brown eyes that betray his warm personality but do not reveal his admiral courage and stamina. A truly trustworthy friend can be found in him and he makes a great family pet, as he is always eager to romp and play. Left alone he may howl, but training can alleviate this problem, although he should not be left alone for long periods of time.
Beagles at a glance
Our 4 Paw Rating - to the suitability of Beagles for your home and lifestyle.
Size



Shoulder height up to 13 inches, weight 18 - 30lbs
Coat Care



Short and weather proof, needs to be kept brushed. Ears must be kept clean
Family Life




Sociable, cheerful and independent – early socialisation will ensure he is friendly to other dogs and children as well as strangers
Lifestyle




Happy in smaller spaces, as long as enclosed yard is available. Needs companionship of humans or other dogs
Health




Life expectancy 12 - 15 years
Tests for hip and eye recommended
Exercise




Needs lots of exercise, its love of being outside makes it unsuitable for apartment life
Training



Obedience classes are the best route for training Beagles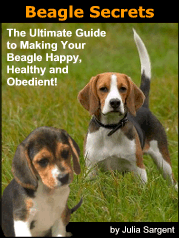 Boston Terrier Dog Secrets New
Discover How to make your Boxer dog happy healthy and obedient!
Puppy & Dog Training
We help you with basic puppy and dog training then show you the best places to learn how to have the most perfectly behaved dog.
Housebreaking
All puppies need potty training and house training dogs is simple. Again we show you the basics then show you the best places on the internet to learn more.
See also: [Dog Breeds] [Choosing A Dog]