All about Boston Terrier puppies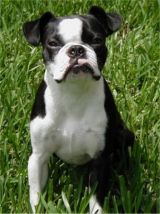 The Boston Terrier (sometimes called the Boston Bull Terrier) is generally alert, very intelligent and enthusiastic. This breed seems to have a sense of humour and is sensitive to the tone of your voice.
Although their intelligence ensures they pick things up quickly, it also allows them to be wilful. Some owners say they make good watchdogs, barking only when necessary – although some do not bark at all!
Boston Terrier puppies are reliable with children and especially good with elderly people and friendly with strangers. Boston terriers are playful and very affectionate and enjoy being part of the family.
They are very popular in America, due to their excellent temperament - they generally get along with other pets, although can be difficult to housebreak.
First bred as fighting dogs, today's Boston Terriers have been bred to be less aggressive, being gentle and well mannered in most cases.
Boston Terrier puppies at a glance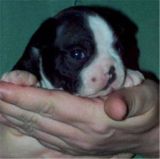 Our 4 Paw Rating - to the suitability of the Boston Terrier for your home and lifestyle.
Size



Shoulder height 15 - 17 inches, weight 10 - 25lbs
Coat Care


Short coat, very little grooming required. Face should be wiped daily with a damp cloth and their prominent eyes checked carefully
Family Life




Loves people, and seems to be particularly good with elderly people – happiest when involved in all aspects of your life and coming along everywhere that you go! Is light weight and can be easily carried
Lifestyle




Does not require much room, happy indoors, where he is relatively inactive – as long as you can give him your time and attention he will be happy
Health



Life expectancy up to 15 years
Heart and skin tumours are common in the breed and breathing difficulties when stressed or after exertion. The prominent eyes are prone to injury
Exercise


Has no desire for long walks, just regular play sessions and short walks will keep him fit and healthy
Training




Easy to train due to their intelligence, although consistency and perseverance may be required for housebreaking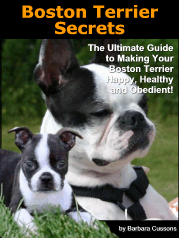 Boston Terrier Dog Secrets New
Discover How to make your Boxer dog happy healthy and obedient!
Puppy & Dog Training
We help you with basic puppy and dog training then show you the best places to learn how to have the most perfectly behaved dog.
Housebreaking
All puppies need potty training and house training dogs is simple. Again we show you the basics then show you the best places on the internet to learn more.
See also: [Dog Breeds] [Choosing A Dog]