All about Pugs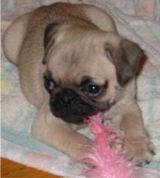 Head strong and a little stubborn - but with their delightful mix of dignity and comedy, they will win your heart and are generally eager to please.
They make great family pets, loving people especially children. Beware, they also have a tendency to jealousy if ignored by their owners!
Training must be undertaken gently as puppies are really sensitive to voice tone! They love to romp and play outside, weather permitting! - ensure you have somewhere cool for them in hot weather - as they are prone to overheat.
They are friendly, confident, playful, charming, lively and intelligent, and make lovely family pets - most owners agree, what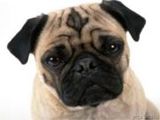 this little dog lacks in stature, it makes up in personality!
Pug dogs are thought to have arrived in Europe via the Dutch trading ships in the 16th Century - moving to Britain with the court of William of Orange, by the 18th Century it had become a prized fashion accessory!
A very popular companion among young and old alike, the pug makes a good family pet.
Pugs at a glance
Our 4 Paw Rating - to the suitability of pugs for your home and lifestyle
Size



Shoulder height up to 11 inches, weight 14 - 18 lbs
Coat Care


Smooth, short, glossy coat requires regular grooming
Family Life




Loves humans, especially children - can be jealous if ignored
Lifestyle





Happy in urban or rural situation - loves to show off
Health





Life expectancy 13 - 15 years
No major health concerns
Exercise


Only requires limited exercise, although happy to walk if offered!
Training



Stubborn and very sensitive to voice tone, gentleness and perseverance required to win over this gutsy little dog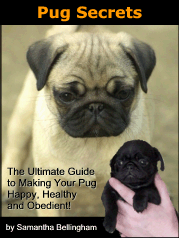 Pug Secrets New
Discover How to make your Rottweiler happy healthy and obedient!
Puppy & Dog Training
We help you with basic puppy and dog training then show you the best places to learn how to have the most perfectly behaved dog.
Housebreaking
All puppies need potty training and house training dogs is simple. Again we show you the basics then show you the best places on the internet to learn more.
Dog Health
Learn how to keep your dog healthy and happy. Prevent illness and find the right pet medicines. Information on dog flea control, and worms. Also Frontline Plus, Advantage and Heartgard.
See also: [Dog Breeds] [Choosing A Dog]