All about the Miniature Schnauzer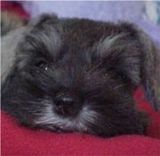 The Miniature Schnauzer deserves its place as one of the most popular terrier pets. It is playful, inquisitive, sparky and companionable. It is also well mannered and enjoys being in the centre of activities. Less domineering than the larger version, it is better with other animals than most terriers.
The Miniature Schnauzer is from Germany. They were exhibited as a distinct breed as early as 1899. It was first used as a barnyard ratter and many still display typical terrier rodent prey traits today.
An energetic, active do who has clean habits and is neat in size and makes a delightful companion.
The Miniature Schnauzer at a glance
Our 4 Paw Rating - to the suitability of miniature schnauzers for your home and lifestyle
Size



Shoulder height up to 12 - 14 inches, weight 13 -15 lbs
Coat Care


A Miniature Schnauzer has a harsh and wirey with dense undercoat – must never be clipped
Family Life




The Miniature Schnauzer is lively, intelligent and attentive, very loyal to its family can be stubborn!
Lifestyle





The Miniature Schnauzer is well suited to less active people and apartment living, this dog is equally happy on long runs with busy families
Health




Life expectancy 12 - 14 years.
Test for eye, DNA for vWD (cardiac) recommended
Exercise


The Miniature Schnauzer has boundless energy, happy to run in the yard or go on long walks
Training



You need to be confident and consistent, with a Miniature Schnauzer. They are eager but sometimes have their own agenda!
Miniature Schnauzer Secrets New
Discover how you can make your Miniature Schnauzer the most obedient and happiest dog alive!
Dog Health
Learn how to keep your dog healthy and happy. Prevent illness and find the right pet medicines. Information on dog flea control, and worms. Also Frontline Plus, Advantage and Heartgard.
See also: [Dog Breeds] [Choosing A Dog]