All about pomeranian puppies and dogs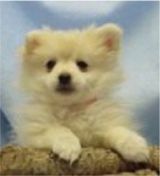 Pomeranian puppies and dogs are bouncy, bold and busy! The make the most of each and every day. Curious, playful, self confident (verging on cocky!) and attentive, they are always ready for a game or adventure. Some, especially, pomeranian puppies and dogs, tend to bark a lot and can be reserved towards strangers.
The Pomeranian is the smallest of the Spitz breeds and takes its name from its place of origin in the Baltics. Bred for its smallness, the Pomeranian retains the temperament of a much larger dog!
Most Pomeranian puppies and dogs are natural extroverts, enjoying the company of human or canines, makes them one of the most popular toy breeds. Pomeranian puppies adore being pampered and petted but also loves to be active and playful. He is an affectionate and faithful little dog, who makes and excellent companion.
Pomeranian puppies at a glance
Our 4 Paw Rating - to the suitability of Pomeranian puppies and dogs for your home and lifestyle
Size


Shoulder height 8 - 11 inches, weight 3 - 7 lbs
Coat Care



Long with a thick undercoat, comb every 3 weeks
Family Life





Pomeranian puppies are energetic, intelligent and eager to learn. Very loyal to its family
Lifestyle





Pomeranian puppies are happy in small urban spaces, this little dog makes a great life companion
Health




Life expectancy 12 - 16 years.
Tests cardiac knee and eye recommended
Exercise


For Pomeranian puppies short walks and playing in the yard are sufficient
Training



Pomeranian puppies must be trained early to avoid unnecessary barking, their intelligence and eagerness makes training fairly easy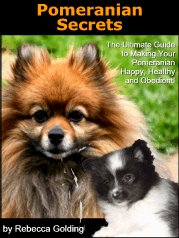 Pomeranian Secrets New
Discover How to make your Pomeranian happy healthy and obedient!
Puppy & Dog Training
We help you with basic puppy and dog training then show you the best places to learn how to have the most perfectly behaved dog.
Housebreaking
All puppies need potty training and house training dogs is simple. Again we show you the basics then show you the best places on the internet to learn more.
Dog Health
Learn how to keep your dog healthy and happy. Prevent illness and find the right pet medicines. Information on dog flea control, and worms. Also Frontline Plus, Advantage and Heartgard.
See also: [Dog Breeds] [Choosing A Dog]