All About Maltese dogs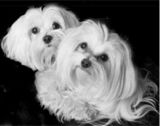 Maltese dogs are hardy little companions with a luxurious, silky white coat. They are lively and playful, completely trusting and devoted to their master. Highly intelligent and good at learning tricks, as long as he feels that the reward is sufficient!!
all Maltese dogs love to play outdoors and are particularly fond of jumping into muddy puddles – a bath will then be essential. They can be intolerant and snappish with inconsiderate children and can be tricky to housebreak.
It is thought that the Crusaders first took these Maltese dogs to England when they were returning home from the Mediterranean. The breed became very popular with women, who often carried them in their sleeves and into their beds.
Maltese puppies at a glance
Our 4 Paw Rating - to the suitability of Maltese dogs for your home and lifestyle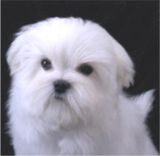 Size


8 to 10 inches at shoulder
Coat Care




Daily combing of Maltese dogs is essential, but be gentle as the coat is very soft. The hair on top of the head is often tied up to keep out of the eyes
Family Life



Ideal companion in homes without children, and those who are not so active as they do not need much exercise
Lifestyle




Happy with apartment living, do not require a back yard.
Health




Life span usually in excess of 15 years
Prone to sunburn and chills, so should be protected from extreme temperatures
Exercise


Very active in doors, so not much exercise required
Training



These little dogs are very sensitive and should be encouraged without harsh words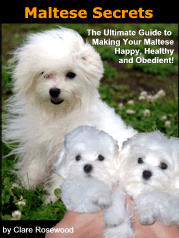 Maltese Secrets New
Discover How to make your Jack Russell happy healthy and obedient!
Puppy & Dog Training
We help you with basic puppy and dog training then show you the best places to learn how to have the most perfectly behaved dog.
Housebreaking
All puppies need potty training and house training dogs is simple. Again we show you the basics then show you the best places on the internet to learn more.
Dog Health
Learn how to keep your dog healthy and happy. Prevent illness and find the right pet medicines. Information on dog flea control, and worms. Also Frontline Plus, Advantage and Heartgard.
See also: [Choosing A Dog] [Dog Breeds]