Shih Tzu puppies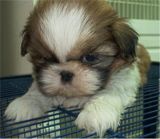 Shih Tzu puppies are happy, outgoing and friendly and great with children. ShihTzu's are one of the breeds bred entirely for companionship. Bonding with the whole family Shih Tzu puppies make excellent family pets, with minimal grooming and walking requirements – every home should have one!
In the world of those who know, Shih Tzu is pronounced ' sheed zoo', and in Chinese it means 'Lion Dog'. The ancestors of this sprightly dog are Tibetan Temple dogs. Carefully bred in the Imperial Palace and showed a likeness to the Lion, an important Buddhist symbol.
The Shih Tzu features heavily in Buddhist mythology and was believed to be the animal that Buddha himself kept as a pet.
Shih Tzu puppies at a glance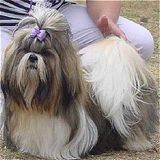 Our 4 Paw Rating - to the suitability of Shih Tzu puppies for your home and lifestyle
Size


Height - 8 - 11 inches at shoulder, weight – 9 - 16 lbs
Coat Care




Long flowing double layered coat, daily brushing will keep in order
Family Life




Loves family togetherness and bonds with the whole family, excellent with older children, but due to his extreme sense of self worth can tend to be jealous of babies and toddlers and is not recommended in such families.
Lifestyle





Due to their size the Shih Tzu puppies can adapt to all types of living, as long as they are part of the family
Health




Life expectancy 11 - 14 years
Eye and renal dysplasia checks recommended
Exercise



Undemanding requirements, a daily walk will suffice
Training



Shih Tzu puppies have attitude and will do their best to convince you they should be treated like a King! If allowed to, they will cry to be spoilt – this must be trained out at an early stage with much socialising and consistency with assertiveness.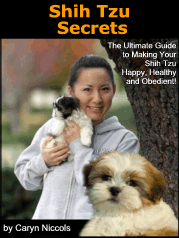 Shih Tzu Secrets New
Discover How to make your Shih Tzu happy healthy and obedient!
Puppy & Dog Training
We help you with basic puppy and dog training then show you the best places to learn how to have the most perfectly behaved dog.
Housebreaking
All puppies need potty training and house training dogs is simple. Again we show you the basics then show you the best places on the internet to learn more.
Dog Health
Learn how to keep your dog healthy and happy. Prevent illness and find the right pet medicines. Information on dog flea control, and worms. Also Frontline Plus, Advantage and Heartgard.
See also: [Dog Breeds] [Choosing A Dog]