All about Chow Chow Puppies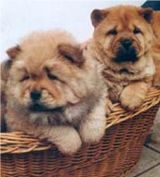 Chow Chow puppies will make a loyal and devoted pet, providing that sufficient time and commitment is given to training. Often likened more to cats than dogs, Chow Chow puppies can be aloof and are independent dogs. While they have adorable, huggable coats, they are not overly thrilled with being cuddled.
An excellent guard dog, even Chow Chow puppies are suspicious of new people and animals, but they are usually good with other household pets and children of the family.
It is thought that the first Chow Chows were bread in ancient Mongolia for both their guarding abilities and their meat.
Chow Chows have very unusual blue-ish tongues - folk lore has it that when God was creating the world, he spilled some blue paint while painting the sky - a Chow Chow licked it up and to this day has a blue tongue!
Chow Chow puppies at a Glance
Our 4 Paw Rating - to the suitability of Chow Chow puppies for your home and lifestyle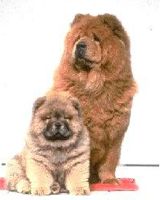 Size




Shoulder height up to 22 inches, weight up to 70lbs
Coat Care





Has a thick coat which requires a lot of care - Chow Chow puppies will need to be trained to lie quietly on their side for the many long hours of grooming
Family Life



Because of his independent nature, it is important to stay one step ahead of Chow Chow puppies! With enough training and education Chow Chow puppies will become a loyal and devoted family pet and an excellent guard dog
Lifestyle



Not prone to outbursts of public affection, his behaviour is more like that associated with an aloof cat. Chow Chow puppies are not particularly eager to please their owner, unlike most breeds and this can cause difficulty if not properly trained
Health




Test for hip dysplasia recommended
Exercise


Chow Chow puppies don't require a huge amount of exercise, but does like to spend time outdoors
Training



Chow Chow puppies have a tendency toward stubborn behaviour and a lack of desire to please their owner - training is critical with this breed. Any failings now will be paid for as he progresses to his 'teenage' rebellious years!
The ultimate A-Z of dog names Best Seller
Choosing a name for your puppy? We have put together 26,649 dog names in one place. Plus Free a bonus report.
Puppy & Dog Training
We help you with basic puppy and dog training then show you the best places to learn how to have the most perfectly behaved dog.
Housebreaking
All puppies need potty training and house training dogs is simple. Again we show you the basics then show you the best places on the internet to learn more.
Dog Health
Learn how to keep your dog healthy and happy. Prevent illness and find the right pet medicines. Information on dog flea control, and worms. Also Frontline Plus, Advantage and Heartgard.
See also: [Dog Breeds] [Choosing A Dog]