All About German Shepherds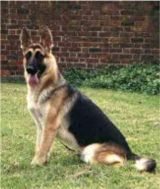 German Shepherds are bold, eager, alert and cheerful. They are known for their courage and loyalty. They are serious and almost human like with their intelligence. They love people and should not be isolated for long periods of time.
With their roots in guarding German Shepherds have a strong protective instinct and are naturally territorial. German Shepherd puppies need to be trained and controlled firmly and consistently.
German Shepherds keenness to learn and intelligence, makes them ideal as working dogs and they are regularly seen in the military and as guide dogs for the blind, hearing dogs for the deaf and helping dogs for the disabled.
German Shepherd puppies at a glance
Our 4 Paw Rating - to the suitability of German Shepherds for your home and lifestyle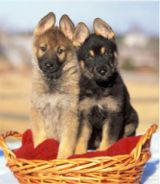 Size





22 to 26 inches at shoulder
Coat Care



Combing to remove dead hairs during shedding season
Family Life




As long as socialised and trained early will settle well to family life
Lifestyle




Needs plenty of exercise, will be come inactive if left for long periods without. A back yard is preferred
Health




Life span approximately 13 years
Hip test recommended
Exercise





Regular free running exercise necessary. This breed is happiest when 'working' or taking part in agility type activities
Training





Quick to learn and keen to please, but due to its territorial nature, it is essential that it is controlled with a firm hand in a consistent way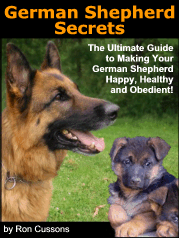 German Shepherd Secrets New
Discover How to make your Boxer dog happy healthy and obedient!
Puppy & Dog Training
We help you with basic puppy and dog training then show you the best places to learn how to have the most perfectly behaved dog.
House Training Doos
All puppies need potty training and house training dogs is simple. Again we show you the basics then show you the best places on the internet to learn more.
See also: [Choosing A Dog] [Dog Breeds]