All about Jack Russell Terriers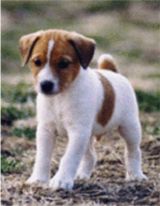 Jack Russell Terriers are mischievous and adventurous in the extreme! They are prone to dig and bark and are best suited to someone who is active and likes to be entertained! They are generally good with people and children, can be trained to tolerate other animals, but do not like rodents. Remember they are hunting dogs at heart and may sometimes have difficulty in resisting the family cat!
The Jack Russell Terrier was developed in the mid 1800's by Reverend John Russell of Devonshire (hence the new name since April 2003 'Parson Russell'). Their job was to follow the hounds when fox hunting and get the fox out if it went to ground, in order that the hunt could continue.
Jack Russell Terriers at a glance
Our 4 Paw Rating - to the suitability of Jack Russell Terriers for your home and lifestyle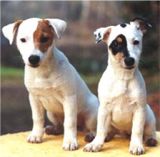 Size


shoulder height 13 - 15 inches weight 13 - 17 lbs
Coat Care


Short haired variety some brushing with a rubber brush during shedding season should be sufficient. The rough haired variety will need to be plucked, you can learn to do this yourself, or use a reputable professional groomer
Family Life





Jack Russell Terriers love everyone (except rodents and sometimes cats!) It may try to dominate other dogs regardless of its size and will always announce arrivals with a distinctive bark
Lifestyle




Jack Russell Terriers are brave, confident, boisterous and mischievous little dog - and as a result of his constant quest for activity he often finds himself in the middle of trouble. He will require plenty of attention!
Health





Life expectancy 13 - 15 years
No major concerns
Exercise



Extremely active and seemingly tireless - will keep going as long as you can, and longer! A Jack Russell will be happiest in a home with a large back yard to explore and run about in
Training




Jack Russell Terriers are quick to learn, but will always try and do things his way! Consistency will be the key to success and a Jack Russell will always try to win you over with his cheeky charm!
Jack Russell Secrets New
Discover How to make your Jack Russell happy healthy and obedient!
Puppy & Dog Training
We help you with basic puppy and dog training then show you the best places to learn how to have the most perfectly behaved dog.
Housebreaking
All puppies need potty training and house training dogs is simple. Again we show you the basics then show you the best places on the internet to learn more.
Dog Health
Learn how to keep your dog healthy and happy. Prevent illness and find the right pet medicines. Information on dog flea control, and worms. Also Frontline Plus, Advantage and Heartgard.
See also: See also: [Dog Breeds] [Choosing A Dog] [Dog Names]