All about Boxer dogs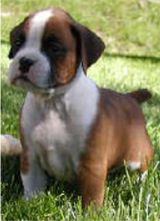 A Boxer puppy is a perfect companion for an active family. Boxer puppies can be stubborn and must be trained quickly and consistently - especially being taught very early on not to jump up- this will pay dividends later on!!
You will find Boxer dogs are friendly, energetic, inquisitive, devoted, loyal, outgoing and social and make lovely family pets - as long as you are prepared to put the effort in to the early training and plenty of exercise.
The ancestors of Boxer dogs have been around since the 16th century. Selective breeding in Germany (by Georg Alt) in the late 1800's produced what we now know as the Boxer breed. They were originally bread as working dogs, used to guard livestock and baiting.
With their breeding origins in 'guarding' Boxers are natural protectors and will automatically incline to this devoted role. For this reason they do make good guard dogs.
Boxer dogs at a glance
Our 4 Paw Rating - to the suitability of Boxer dogs for your home and lifestyle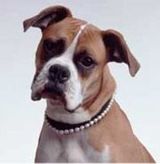 Size




Shoulder height up to 25 inches, weight 65 - 80 lbs
Coat Care


Flat, short coat - hardly any moulting. Occasional brushing will keep coat in excellent condition
Family Life





Love humans, especially children - also adapts well to other household pets. Definitely a 'people' dog
Lifestyle




Suit urban or rural lifestyle, as long as walked daily - Easily bored, can be destructive if left unattended for long periods
Health




Life expectancy 8 - 10 years
Test Boxer dogs for cardiac and hip recommended
Exercise





Need plenty of exercise - either free running in a good sized yard or garden for long periods of time, or daily walking
Training




Respond well and are fairly keen to please, remember that consistency and perseverance in training regime are essential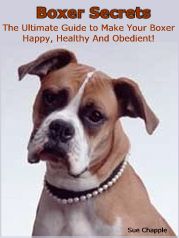 Boxer Dog Secrets New
Discover How to make your Boxer dog happy healthy and obedient!
Puppy & Dog Training
We help you with basic puppy and dog training then show you the best places to learn how to have the most perfectly behaved dog.
House Training Dogs
All puppies need potty training and house training dogs is simple. Again we show you the basics then show you the best places on the internet to learn more.
See also: [Dog Breeds] [Choosing A Dog]