All About Havanese puppies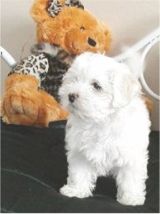 Havanese puppies and Havanese dogs are natural companions. They are intelligent and responsive and become very attached to their humans, and they are really good with children and other household pets.
Havanese puppies are cheerful and sociable little dogs like a position high up on a chair watching what is going on!
After the French, Cuban and Russian revolutions, Havanese dogs became almost extinct. The breed remains rare in Cuba, but is on the increase elsewhere due to the efforts of some very dedicated believers in the breed. In the 18th and 19th Century they were 'lap' dogs, adorning laps of aristocracy .
Havanese puppies at a glance
Our 4 Paw Rating - to the suitability of Havanese puppies for your home and lifestyle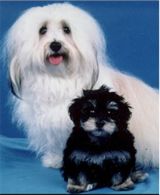 Size


8.5 to 11.5 inches at shoulder
Coat Care



Havanese puppies require frequent brushing, this breed is not usually clipped. A well kept coat will still look deliciously tousled
Family Life





A very sociable dog, Havanese puppies and dogs adore humans and usually gets on well with other family animals
Lifestyle





Well suited to apartment living as Havanese dogs do not demand a back yard – they will enjoy the run of the house. This little dog is definitely for living in your house with you
Health





Life span 12 – 15 years
Havanese puppies are a healthy and long living breed, with no specific health problems
Exercise



One or two short walks a day will keep this dog happy, loves to play and run around
Training




Eager to please, but requires positive reinforcement
The ultimate A-Z of dog names Best Seller
Choosing a name for your puppy? We have put together 26,649 dog names in one place. Plus Free a bonus report.
Puppy & Dog Training
We help you with basic puppy and dog training then show you the best places to learn how to have the most perfectly behaved dog.
Housebreaking
All puppies need potty training and house training dogs is simple. Again we show you the basics then show you the best places on the internet to learn more.
Dog Health
Learn how to keep your dog healthy and happy. Prevent illness and find the right pet medicines. Information on dog flea control, and worms. Also Frontline Plus, Advantage and Heartgard.
See also: [Choosing A Dog] [Dog Breeds]