Basset Hounds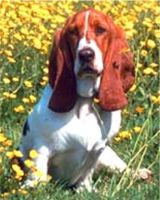 Basset Hounds have become known as the 'Hush Puppy' dog, following a long and successful advertising campaign by a shoe manufacturer. Basset Hounds are short legged and heavy of bone, movement looks humorous, but never clumsy. The Basset Hound (not Basset Hound) is mild tempered, but can be stubborn.
He can also be vocal at times, with his almost 'singing' bark – which can become unpopular with the neighbours! A lovely and amusing household pet, for families with a good sense of humour. Absolutely obedient and loyal to his master, Basset Hounds make a wonderful family companion.
Basset Hounds are a multi-purpose hunting dog, with an ultra keen nose and gentle nature, making them well suited to hunting in packs or by himself. Principally used for hunting rabbits, they are a smooth moving hunting dog, easy to follow on foot – with distinctive 'voice' so you know where he is. Their coat is thick and tight to protect him well from dense cover and brambles.
Basset Hounds at a glance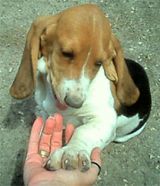 Our 4 Paw Rating - to the suitability of Basset Hounds for your home and lifestyle.
Size



Height – 13 - 15 inches at shoulder, weight – 40 - 60 lbs
Coat Care



Minimal grooming required – once a week should suffice
Family Life





A loving, loyal and irresistible family pet, once you have lived with a Basset you will never want another breed
Lifestyle




Adores the outdoor life and loves to be involved. However, remember he is a hunting dog at heart and inclined to wander – make sure your backyard is securely fenced! Suited to urban or rural life, as long as regular exercise.
Health




Life expectancy 10 - 12 years
Generally healthy, check for genetic disorders
Exercise




Loves the outdoor life and needs free running
Training




Has a stubborn streak, so will need consistency and plenty of repetition – reward rather than punish, as he is a loving and gentle creature.
Puppy & Dog Training
We help you with basic puppy and dog training then show you the best places to learn how to have the most perfectly behaved dog.
House Training Dogs
All puppies need potty training and house training dogs is simple. Again we show you the basics then show you the best places on the internet to learn more.
Dog Health
Learn how to keep your dog healthy and happy. Prevent illness and find the right pet medicines. Information on dog flea control, and worms. Also Frontline Plus, Advantage and Heartgard.
See also: [Dog Breeds] [Choosing A Dog]