All About Dachshunds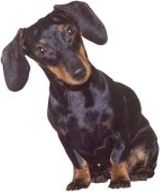 Dachshunds are clever, lively and courageous, sometimes to the point of stupidity! They are fun loving, active pets.
Despite their small size they need plenty of physical and mental stimulation – and it is important that this is not overlooked.
Whilst they can be a little reserved with strangers, they generally form strong and unbreakable bonds with their families. Children must be careful not to damage their long backs, especially when they are puppies.
The name Dachshund comes from the German for Badger Dog – often hunting in packs they were bred to hunt ferocious badgers – they would follow them right into their burrows and kill them. This meant its size and build was critical for the task. They were imported to England during Queen Victoria's reign, by her Germanic husband,
Albert.
Dachshunds at a glance
Our 4 Paw Rating - to the suitability of Dachshunds for your home and lifestyle.
Size


5 - 10 inches at shoulder, weight 15 - 25 lbs
Coat Care



Short haired, brush occasionally with a rubber brush to remove dead hairs.
Long haired, can be prone to tangles and should be groomed more often
Family Life




Loves people, can be shy with strangers – and sometimes a little over courageous with other dogs!
Lifestyle





Can live in almost any accommodation due to its compact size, but its exercise needs (mental and physical) should not be overlooked
Health




Life expectancy 12 - 14 years
Test for hip dysplasia – and general bone development, especially in back
Exercise



Don't be fooled by his size, the dachshund needs plenty of long walks.
Training


Independent and with a mind of their own, they can be difficult to train, consistency and perseverance essential!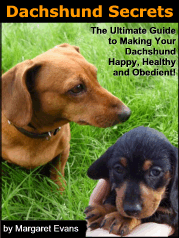 Dachshund Secrets New
Discover How to make your Dachshund happy healthy and obedient!
Dog Health
Learn how to keep your dog healthy and happy. Prevent illness and find the right pet medicines. Information on dog flea control, and worms. Also Frontline Plus, Advantage and Heartgard.
See also: [Dog Breeds] [Choosing A Dog]