All about English Bulldogs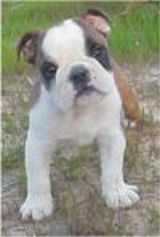 English Bulldogs are intelligent, gentle and affectionate dogs – excellent with children, not viscous or aggressive. They will adapt to your family having as much or as little exercise as it is offered.
They are amiable and jovial with a comical style, they retain a stubborn streak! Training is made easy by their keenness to please and their sensitivity to their owners voice.
English Bulldogs only shed a little hair, this is easily remedied with weekly brushing with a rubber brush.
English Bulldogs where originally bred around the 13th century for bull baiting which had been popular since the Romans, in fact most towns had a bull ring. The sport was cruel and required the dog to grab the bull by its ears, lips or nose and hold on until the animal was brought down. The strong, short, undershot jaw and set back nose, enabled it to breathe while still holding on. Bull baiting was banned in 1835, but lovers of the bulldog where determined to save it, so a club with the motto 'hold fast' was formed and the English Bulldog club became one of the first to be recognised by the Kennel club when it was founded in 1873. Retaining all the admirable traits of courage and tenacity – it is now a gentle and affectionate dog, who loves children.
English Bulldogs at a glance
Our 4 Paw Rating - to the suitability of English Bulldogs for your home and lifestyle
Size




Shoulder height 12 - 15inches, weight up to 50lbs
Coat Care



Smooth coat, limited shedding, lotion needs to be applied as prescribed to the facial folds
Family Life





Enjoys mixing with other dogs and people, very good with children
Lifestyle





Will adapt to lifestyle of family, happy in urban or rural surroundings, as long as it can bond with owner
Health



Life expectancy 8 - 10 years
Hip, knee, elbow and eye tests recommended. prone to skin fold dermatitis unless wrinkles are kept clean and dry. Cannot tolerate heat. Hip radiographs show most bulldogs to be dysplastic but few show overt symptoms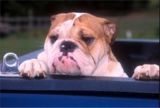 Exercise



Uncomplicated exercise needs, will adapt to activity level of household, sufficient rest is key to development of heart, muscles and joints
Training




Consistency is important, but the bulldogs sensitivity to the handlers voice makes training a fairly simple process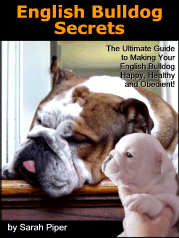 English Bulldog Secrets New
Discover How to make your English Bulldog happy healthy and obedient!
Puppy & Dog Training
We help you with basic puppy and dog training then show you the best places to learn how to have the most perfectly behaved dog.
Housebreaking
All puppies need potty training and house training dogs is simple. Again we show you the basics then show you the best places on the internet to learn more.
See also: [Dog Breeds] [Choosing A Dog]